Kansas Singletrack Trails
Each of our trails are custom designed and built by KSS trail-masters in partnership with local land owners. We do all our own maintenance and rely on financial support of our members. If you are interested in joining KSS to help support the trails you ride, follow the "Support KSS" link in the top navigation bar.
5.7 additional miles of trail were added in 2017. The north section is similar to Miller's Meadow and should thrill new riders and seasoned alike.
Required Park Fees: $7 day use, $50 yearly pass.
1.8 miles of singletrack just 15 minutes east of Wichita. This trail is full of fast descents, climbing challenges and fun technical sections! KSS has revitalized this trail and made it one that is sure to get your heart pumping!
Required Park Fees: $7 day use, $50 yearly pass.
Air Cap Mountain Bike Park
This wooded trail system consists of three loops with a total distance of 1.8 miles. Each loop has twists, turns, and technical hazards that will challenge riders of all levels. Air Cap is an official city park owned by the City of Wichita and located north of, and separate from, Pawnee Prairie Park. Helmets are required at all times. Even though this is an MTB trail, watch for walkers and runners on the trail. Check rainfall totals
Badger Creek at Fall River
8 miles of singletrack await you at beautiful Fall River State Park. The Badger Creek Trails are located roughly 70 miles east of Wichita and two miles north of Highway 400. This trail is split into a north and south sections. Both trail heads are about 1/8 mile apart. Check Rainfall Totals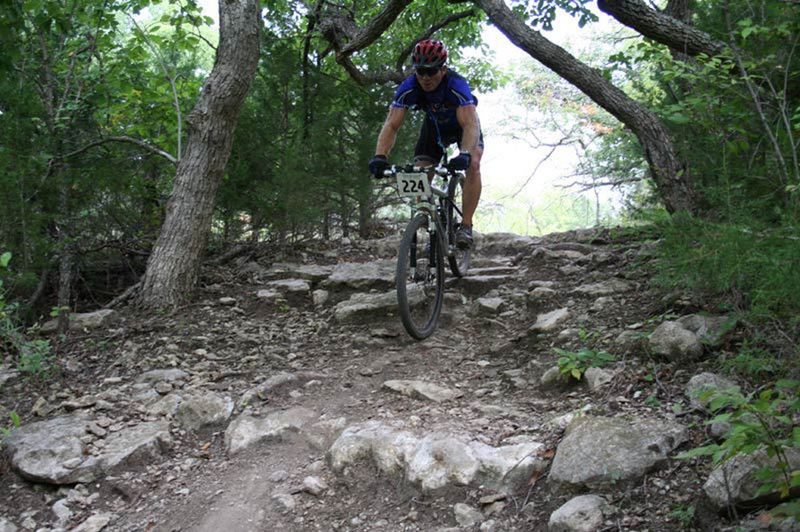 You won't believe you are in Kansas! Approximately 60 miles south of Wichita, the course loop is a grueling 9 miles and features over 1000 feet of climbing and is 90% singletrack.